Fishing in Cabo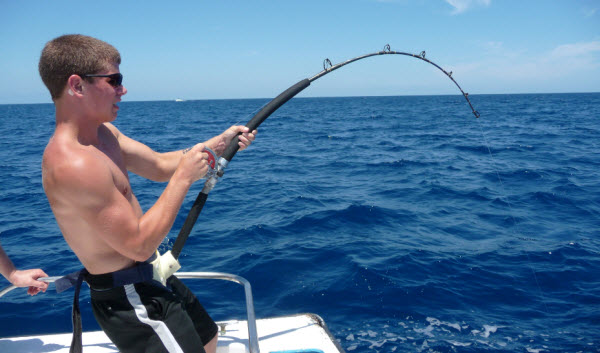 For a fisherman, there is nothing more exciting than the smell of saltwater, bait and gasoline Sunrise on a fishing boat is stimulating; the movement of water and the intensity of the blue sea make him think and dream of the possible catch of the day. Los Cabos is a place that seems created by Nature for fishermen to hear the true call of the sea, to enjoy a particular adventure which they don't consider a hobby, but the most important activity of theirs lives.
The area of the Sea of Cortez that sorrounds the tip of the Baja California Peninsula is famous for its rich waters, which have become a real paradise for fishermen all over the world. The characteristics of the Peninsula offer two options to the passionate fishermen; one, fishing in shallow waters around the reefs and two, the chance to experience big-game fishing in open sea just a few minutes of the coast.
Among the species avaible for the adventurous fisherman in the waters of the Gulf of California are snapper, tuna, red snapper and very exciting species such a seabass, sailfish, blue marlin and black marlin, whose season starts in July and last until November.
Certainly, the star on the list is the striped marlin; these fish are attracted by the vatness of prey-fish and other sea life in the warm waters of the Sea of Cortez; they come closer within a few miles from the coast and it's not unusual for a big specimen to get caught in view of touristic corridor. The best season to go out at sea looking for a big marlin is December to June, which is also the best season for open sea fish. On the other hand, yellowfin tuna can be found all year long, although it's always best to look for it in the most heated months between April and November.
Certainly, this huge spectrum of fishing posibilities can also be done in different ways; from the traditional panga, which are long moter boats that have been a part of the Mexican fishing tradition since memorable times, to the most modern ships like air-conditioned yachts, equipped with the necessary gadget to make the fishing expedition even more interesting, for low profile fishing of smaller fish that are not from open waters and live near the shore, you can go fishing anytime of the year in any kind of boat.
The fish rich waters of Los Cabos are very appealing to the fishing aficionados. Don't miss the opportunity to go out at sea in search of the adventure of your lifetime.



Sportfishing La Playa
Guluarte fleet
Picante Sport Fishing
Pisces Sport Ffishing